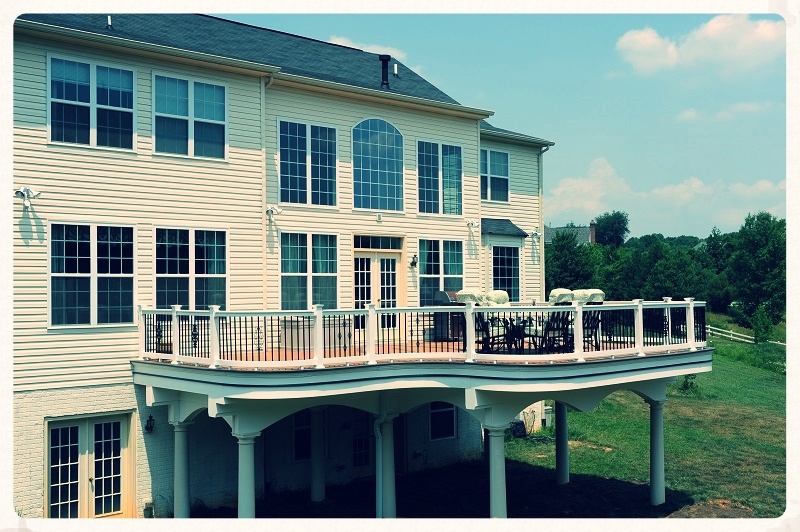 What permits are needed to build a deck in Loudoun County, Virginia?
If you're looking into building a deck in Loudoun County, there are some permit-related steps you'll definitely need to walk through with your contractor before work on that project can begin. As the homeowner, it's your job to ensure you choose a deck contractor that is reputable enough to follow these guidelines and knowledgeable enough to know what the local requirements are. With that in mind, make sure you discuss the following requirements with your contractor to ensure he or she is fully up to date on all Loudoun County requirements.


I. Business License
Before any contractor can start work in Loudoun County, he or she needs to secure a Loudoun County business license. Note that each specific county requires its own business license. Just because your contractor has worked in nearby Fairfax County with a valid Fairfax business license, that doesn't grant the contractor the right to work in any other Virginia county.
II. Virginia Deck Contractor License
In addition to a valid county business license, your contractor also needs a Virginia contractor license. All deck contractors in Virginia will need both to legally undertake a deck project within county limits.
III. License Issuing
A county business license is good for one calendar year, rather than one year from the date of issuance. (That means a new business license obtained in December is only valid for one month.) If your deck build will carry over into a new year, make sure your contractor is aware that those business licenses will expire on the first of January.

IV. Building Permits
Once you're certain your contractor can legally operate in Loudoun County, that contractor needs to secure all the relevant building permits. Without exception, building permits are required for all new construction or remodel projects—including decks.
Generally speaking, to obtain building permits in Loudoun, your contractor will need a building plan that includes:
Foundation plan
Floor framing plan
Roof framing plan
Wall sections
Elevations
Three sets of building plans are typically required to obtain permitting. If, however, you are on a private well and septic system, that changes to four required sets of plans.
V. Virginia Zoning Permits
Unlike building permits, zoning permits are required for most (not all) construction projects. The Department of Building and Development is the issuing body for building permits (throughout Loudoun County) as well as zoning permits for properties located outside the incorporated towns. This same body conducts building inspections and enforces zoning ordinances.

If your contractor doesn't thoroughly and accurately know this process, that's a big red flag.
VI. Be Aware of Recent Permitting Changes
Effective as of January 19, 2016, Loudoun County requires a notarized affidavit of owner form in order to issue permits. Prior to January 19, 2016, this form did not need to be approved by a notary. To avoid timely and/or costly delays, make sure your contractor is aware of this recent policy change.
Loudoun County is one of the fastest-growing counties in America. It offers country living with access to the city for work, which means many project within this county do involve larger homes and larger scopes. It's imperative, therefore, that your contractor not only knows the Loudoun County permitting process but follows it to the letter.

For more information about Loudoun County rules, regulations, and permitting issues and how they relate to a new deck build, please feel free to contact a representative of Design Builders, Inc.