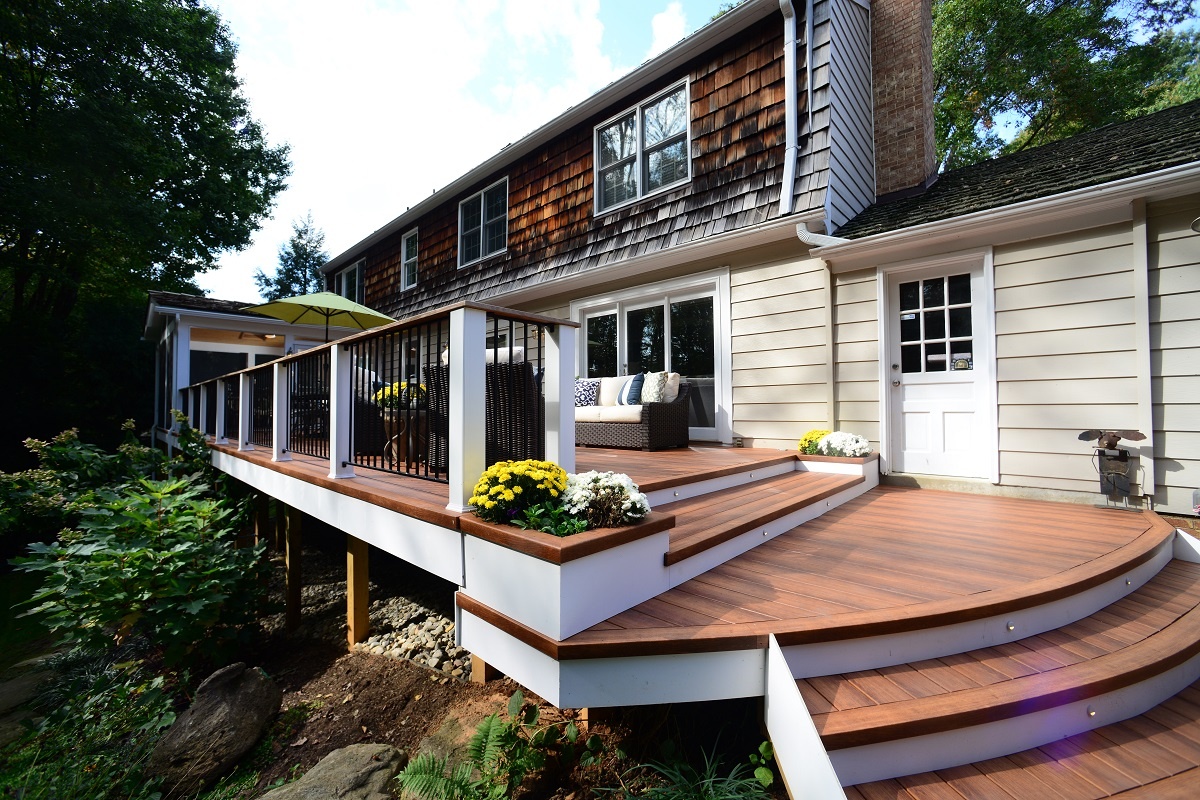 Whether you're hiring a deck builder or planning to build a deck yourself this year, the same considerations should be taken into account during the planning phase of your new deck design project. By asking yourself the important questions and planning ahead, you earn yourself a better chance of building a structure you will use for years without regret in how you designed it.
1. Know your sun and bug exposure
Before building your deck, make sure you spend enough time outside in your back yard to know the conditions. Do you have southern exposure? Do you have mosquito problems? If you have constant sun all day and a fair amount of pesky insects, you may want to think about adding a screen room as opposed to a deck - the honest truth is that you will probably not spend much time on your deck if you are dealing with these conditions.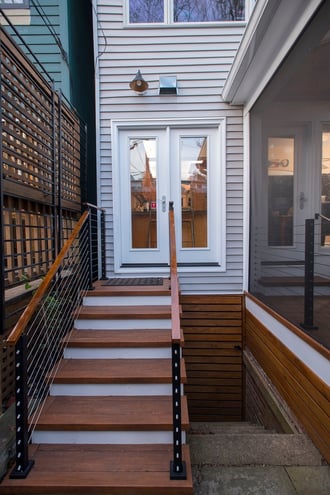 2. Is this deck for you or is it an investment?
If you are planning to move in 5 years you may want to add usable exterior space while keeping your cost down. Also, you never know what the future owner will like or dislike, so going with a simplistic middle of the road design is the best choice. In these situations we recommend building a pressure treated deck. This will keep your cost down initially and your will recoup the most out of your deck investment. Having a pressure treated deck gives the future owner a palate to work, for it's the most customizable. The future owner can change railings easily and stain to his or her liking.
On the flip side, if you are planning on staying in your home more than 5 years and this house is probably your last, you should use a low maintenance material to keep you future cost down. We recommend PVC and ASA decking products that don't fade, stain or scratch. There are a wide variety of colors available and these decking boards come with a lifetime warranty. If this deck is solely for you, and is not an investment then you should be building to your specifications. You have more freedom to personalize the deck and do exactly what you want.
3. Think furniture; think future!
Chances are you don't plan to leave your deck completely. Most people build a deck so they can entertain and eat meals outside. It is imperative that you think of the furniture you plan to put on the deck and also think of the activities you plan to do on the deck. If you plan to have a 4' x 6' table with six chairs you need a 12' x 12' space to accommodate these furnishings and have room to navigate around these items. Don't forget your grill, most people want an area to cook hot dogs and hamburgers. Your typical grill is 4' x 2' so a space that is 6' x 6' is about as small as you'll need. A table next to the grill and an area for the cook to stand is important! Do you plan to have a second seating area with end tables? If you want a two-person rocker chair, chaise lounge, and coffee table you will need an 8' x 8' area.
4. Map out the thoroughfares
Along the lines of anticipating future furniture, is mapping out walkways through the deck. The natural paths we will take from the door to the stairs or the door to the table will dictate where we can put furniture. Just like with any interior room your deck needs a natural flow and the placement of furniture is very important.
5. Do you have enough light and power?
If you deck has a stair system, make sure you have enough light so that the stairs don't become a dangerous place. Along those lines, if your backyard is not properly light, it may be a good time to add flood lights or exterior low voltage lights. Low voltage post lights, risers lights and path lights are a good way to make your deck and back yard safe as well as add an extra flare to the design. Having sufficient power outlets is also a key consideration. If you are planning on doing a lot of reading you may want an outlet near your reading chair so that you can use a lamp. If you are planning on using a rotisserie on your grill it may be a good idea to have an outlet near the grill area. Again, think of how you are going to use the deck for in the future!