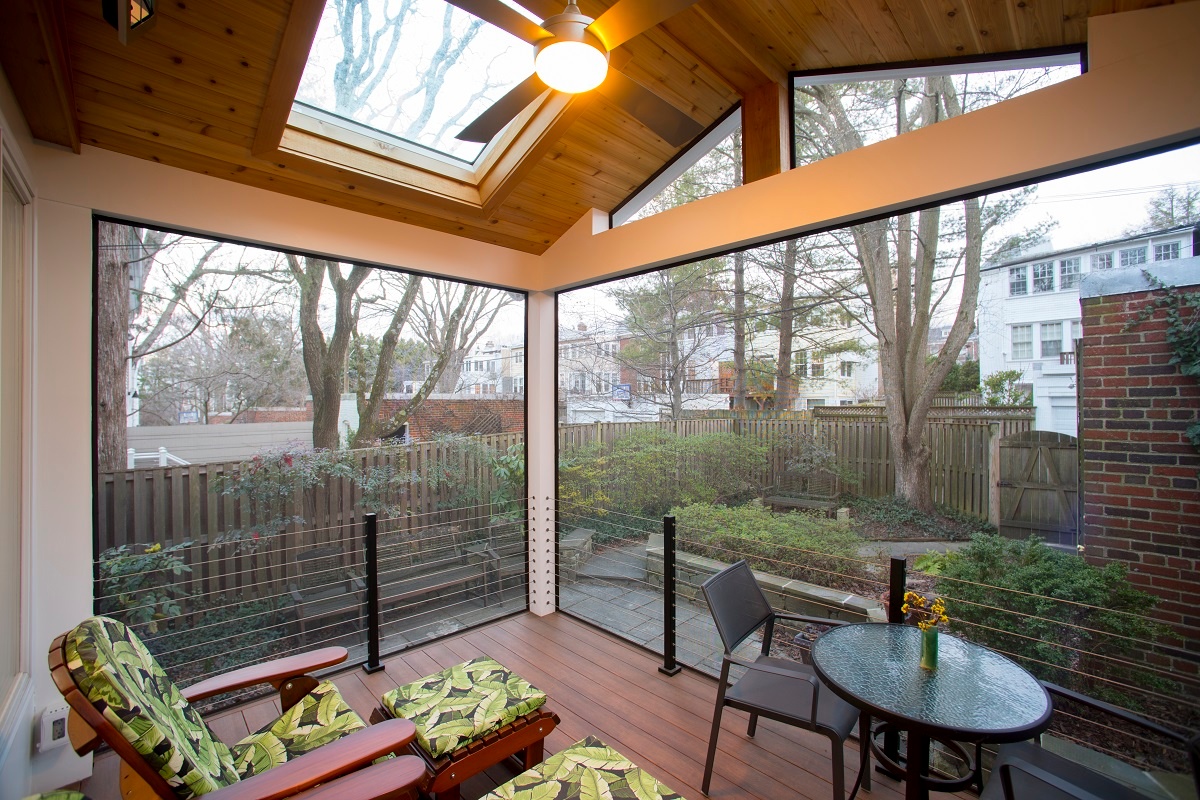 Design and build firms that have projects booked well into 2019 have excellent insight into what customers are looking for with their outdoor living spaces in the coming year. Using these early cues, here are four trends you can expect to see throughout the coming months across outdoor living areas.
Outdoor Kitchens
As outdoor living spaces become increasingly popular, one trend that's sure to continue through 2019 is the creation of creative, functional, aesthetically beautiful outdoor kitchens.
In 2019, people are truly looking to go beyond a grill and a countertop for their outdoor cooking needs. Instead, they're supplementing their interior kitchens with outdoor kitchen features and appliances. This includes items such as wine cabinets, beer coolers, smokers (to supplement the interior oven), pizza ovens, and more.
People adding outdoor kitchens in 2019 want to take full advantage of the space by essentially extending the interior kitchen and adding items they might not otherwise have room for in the main house. More so than in the past, 2019 is also about maximizing your outdoor kitchen for entertaining and year-round use.
Televisions
As little as five to ten years ago, very few people were installing televisions in their outdoor living areas. While design and build firms used to see about 10 percent of homeowners investing in this amenity, that number today is well over 50 percent, and it only looks to grow in 2019. In today's media landscape, screens—from phones to tablets to televisions—are essentially a constant, and that's increasingly reflected in new screened-in porch constructions.
Options for TV placement include a proper structural wall for mounting, a column (if it's wide enough to accommodate), or a cabinet with a TV lift. This last option allows you to hide the television within the cabinetry when it's not in use. This could be a kitchen cabinet from a company like Danver Outdoor Kitchen, or it could be a custom-built cabinet or box for such a purpose. With televisions becoming increasingly sleek and lightweight, you only need about ten to fifteen inches of space to fit both the television and lift mechanism. If your screen porch is conspicuously lacking flat places to properly mount a television, this system offers a viable alternative.
Another TV-related trend in 2019 is installing a projector, which can easily be mounted in order to beam the images. This system doesn't take up much room, and pulling down the screen can be done manually, or the process can be motorized for extra convenience. As with the hidden TVS in cabinetry, projectors aren't always out and visible. This helps make the space more versatile, allowing for transitions from an entertainment space to a private relaxation area.
Deck Tiles
Another trend that already has traction in 2019 is the use of deck tiles installed on a pedestal system. Whether you're using porcelain pavers or another material, these pedestal systems offer a litany of benefits—especially, but not exclusively, for rooftop decks.
With a pedestal system, you build the brand-new structure directly on an existing surface, which saves you from costly, messy demolition. The resulting structure is also not permanent, which is particularly important for rooftop decks. The new deck is perfectly safe and structurally sound, but if you experience a roof leak, you can simply remove the necessary pedestals and tiles and address the underlying roof issue. If you need to replace the entire roof, again, you just take up the pedestals and tiles, complete the necessary work, and then put the pedestal system back in place.
When dealing with porcelain pavers (as opposed to concrete), you're also looking at less weight, which exerts less pressure on the roof structure below and makes installation quicker, easier, and subsequently cheaper. The tiles might also qualify for LEED certification because of their ability to reflect the sun. In addition to the cost savings associated with LEED products, the tiles will also be cooler to the touch than some other decking materials, making the space more comfortable and functional, especially if you're looking to walk barefoot on the deck. Due to the impermeability of porcelain, it's also not prone to warping, cracking, molding, fading, or staining, making maintenance and upkeep virtually nonexistent.
When it comes to rooftop decks in 2019, this laundry list of benefits is sure to make porcelain pavers a go-to choice for homeowners.
Contemporary Aesthetics
Especially in the Washington, DC, area, 2019 looks to bring lots of contemporary and modern design touches. To that end, interest in streamlined, clean aesthetics choices, such as glass rails and cable rails, is at an all-time high.
The simple lines of Brown Jordan Outdoor Kitchens, for example, are currently very popular. Their brand-new line, TECNO Outdoor Kitchens, is highly modern and inspired by European looks and trends. It heavily features stainless steel, frameless design, and a wide palette of color options, including industrial colors that mimic metal and stone, such as marble.
Another company that's on the rise in 2019 is Hyde Concrete, which incorporates sleek, beautiful concrete countertops into their outdoor kitchen work.
An outdoor living area is an excellent way to create additional usable area in your home, which explains why these construction projects have become increasingly popular over the years. As outdoor living spaces became more commonplace, they also became more functional, aesthetically pleasing, and complex. These 2019 trends demonstrate this will only continue as the year progresses, with people opting for more amenities and putting even more thought and consideration into design touches for these exterior retreats.