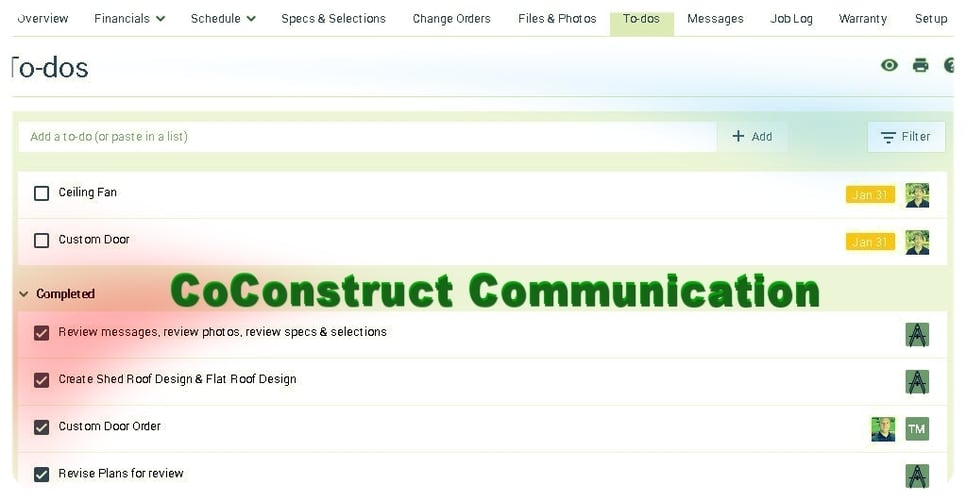 Since its introduction, CoConstruct has quickly made a name for itself as the highest-rated software application of its kind. But what exactly makes this platform so unique? The following are eighteen separate features that are specifically designed to make every home remodel and/or home build less stressful and more successful.
18 CoConstruct Features You'll Be Sure to Love
1. Simplified Decision-Making
Clients can log in and make project-related decisions at their own pace, ensuring these selections are made on time and with a concrete paper trail.
2. Single-Entry Estimating
Help eliminate mistakes and wasted time by creating an estimate, spec sheet, and selections all at the same time and in a single platform.
3. Streamlined Bidding
With seamless integration, bid requests and subsequent communication are easier than ever. Once you've selected a particular bid, CoConstruct automatically pushes that number directly to your estimate—again cutting down on extra time and potential errors from multiple entry.
4. Easy Proposals
Because all your data is in CoConstruct in one integrated platform, contractors can easily create polished, comprehensive proposals. By providing extensive information to clients, you can outshine the competition and win more jobs.
5. Change Orders and Expenses
Tracking all change orders and expenses within the system means clients always know where they stand financially, and you're more likely to get paid on time and without hassle.
6. Improved Client-Contractor Communication
E-mails, texts, and voice mails can get lost and unruly. Keep all your client-contractor discussions organized and accessible in one place with CoConstruct. This documentation protects clients and contractors from any "he said, she said" arguments regarding decisions or agreements.
7. Lead Tracking
CoConstruct can actually facilitate contractors growing their businesses by helping them organize and streamline their lead management.
8. Schedule Coordination
Scheduling is crucial to any construction job, and CoConstruct makes it easier than ever to keep everything organized. With embedded alerts and reminders, you also never have to worry about anything slipping through the cracks.
9. Informed Clients
When it comes to their home projects, clients naturally want all the information they can get. With CoConstruct, you can give them what they want in the most timely, convenient way possible.
10. File and Photo Sharing
With the capability to easily share any file or photo with anyone else, you never have to worry about ambiguity in your change order, estimate, or fixture selections. You also don't have to worry about data breaches, as you can select exactly whom to share these files with.
11. Accounting System Integration
Accounting errors are particularly common when you have to do double entry, and because CoConstruct integrates with your accounting system, you never have to worry about this. By cutting down on errors and wasted time, you help ensure more accurate, easier-to-create invoices.
12. To-Do Lists
Construction projects are extensive and complicated. Keep everything organized with to-do lists, and stay accountable with notifications to team members, clients, trades, and more.
13. Simple Timesheet Management
Rather than sifting through endless spreadsheets and inaccurate start and stop times, enjoy the benefits of CoConstruct's GPS-enabled time clock. When your people are on the clock, you'll always know where they are and what they're doing. Your bookkeeper will be grateful!
14. Custom Branding and Marketing
In a market saturated with high-quality photos and effusive testimonials, you need to do anything you can to stand out, and CoConstruct can help. Impress potential clients with this clean, easy-to-use system, which is fully customizable to your logo and other branding material.
15. Budget Forecasting
CoConstruct can help you say good-bye to time-intensive, potentially inaccurate manually updated budget spreadsheets.
16. Project Progress Tracking
CoConstruct makes it easy for everyone to log exactly what was accomplished that day on the project. This cuts down on needless progress-related meetings, and it keeps the client constantly informed about all headway being made.
17. Mobile App
No matter where you are, have access to everything in your CoConstruct platform through the mobile app. It's compatible with both iPhone and Android devices.
18. Warranty
Just because a job is complete doesn't mean it's done. Tie up any warranty-related loose ends directly in the CoConstruct platform, and impress clients by seeing everything through to the very end.
Have any questions about what the CoConstruct platform can bring to your next remodel or home build? Feel free to reach out to a representative of Design Builders, Inc., today!