Screened porch with added Sunspace windows in Rockville MD
The Design Builders Case Study: Screened Porch with Sunspace Windows
Considering adding an outdoor living space to your home? Then you won't want to miss this Rockville, Maryland, screen porch!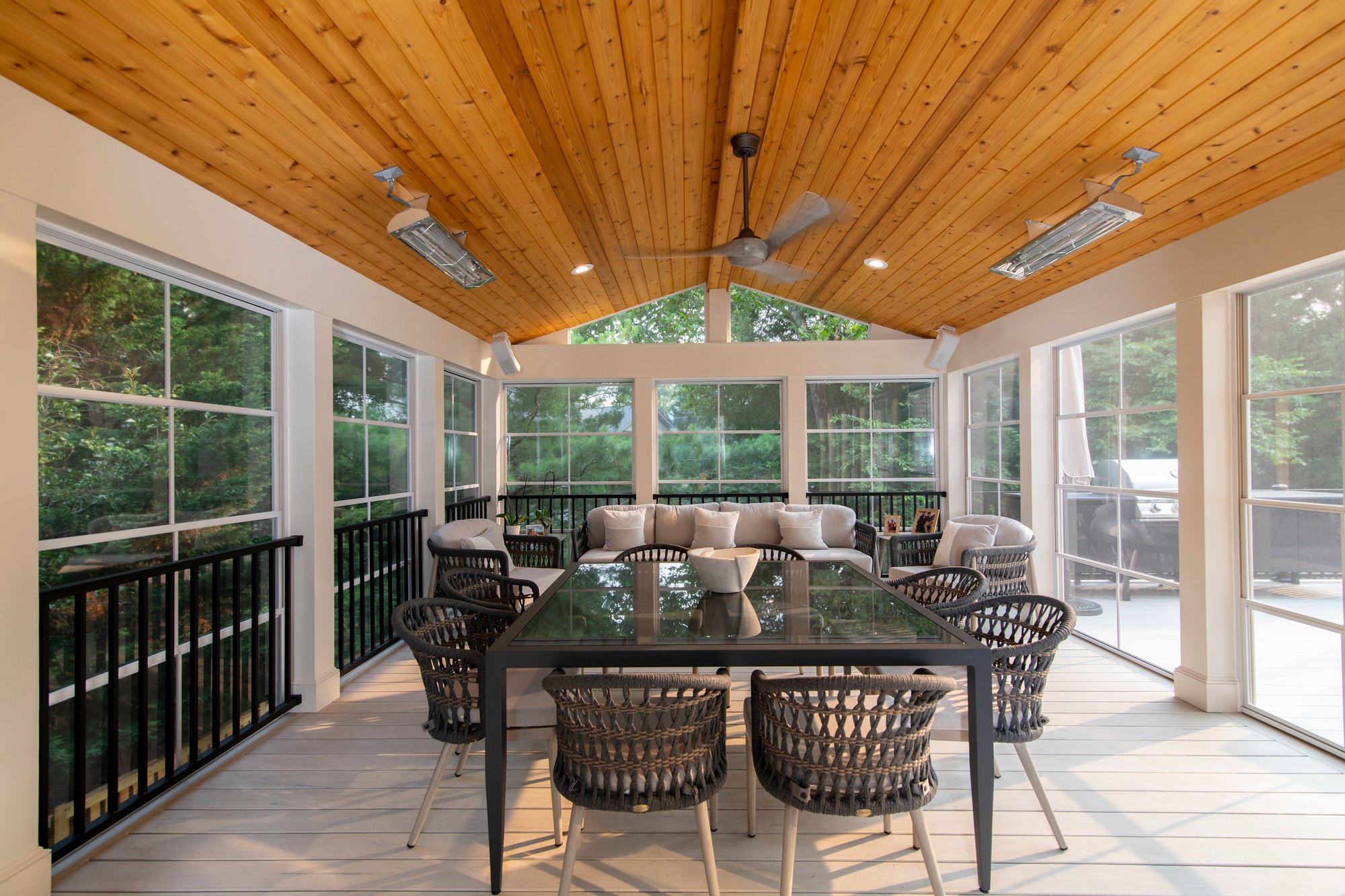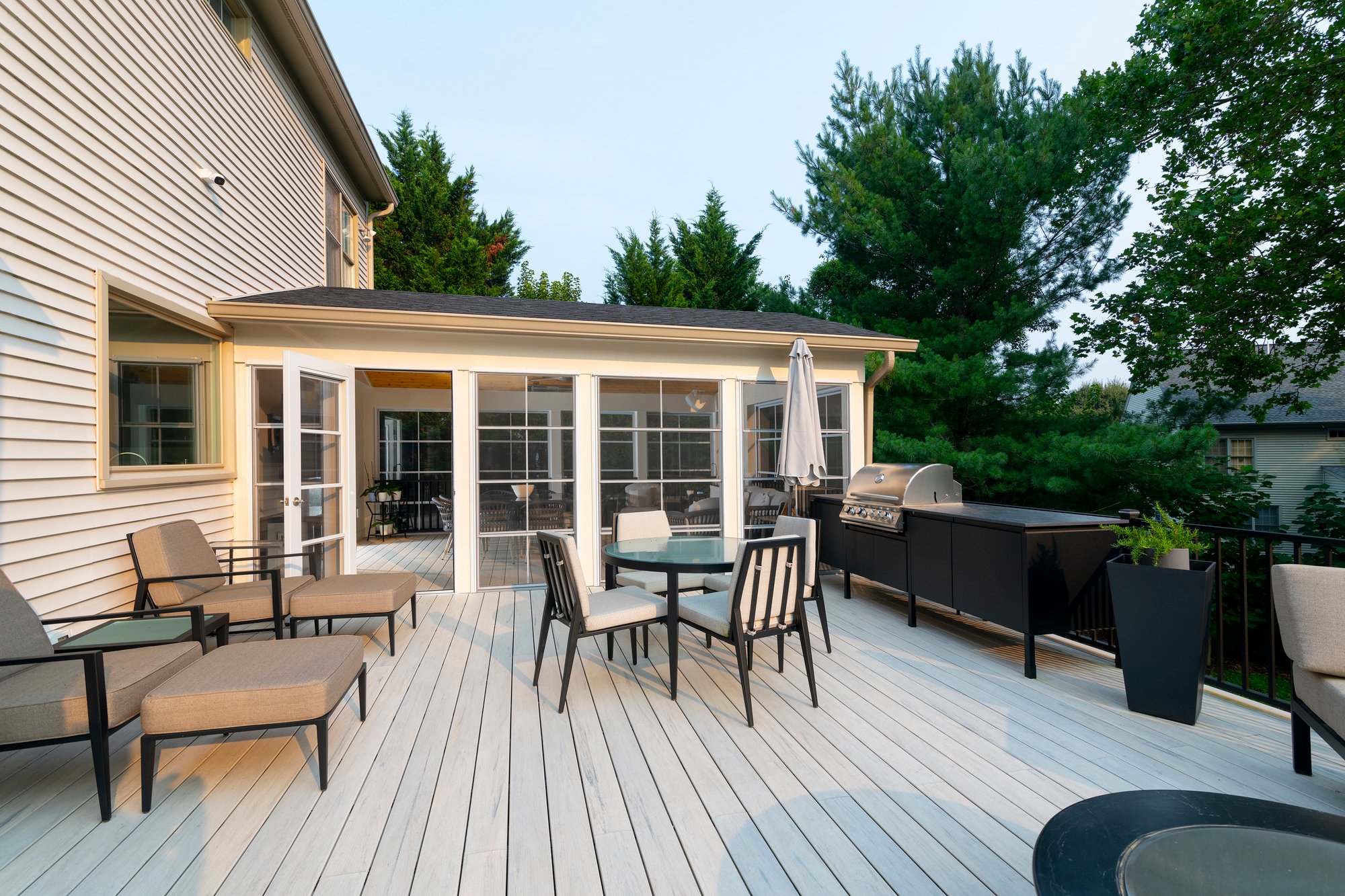 Northern Virginia and Maryland Homeowners, Check Out This Stunning Screen Porch.
Have you been thinking about adding a screen porch to your Northern Virginia or Maryland home? Rockville, Potomac, Bethesda, Gaithersburg? Reston, Arlington, Vienna? You will want to see the full breakdown on this Rockville, Maryland, screen porch we recently completed! From inspiring pictures to key project features to a rundown on why the homeowner went with Design Builders, you're sure to get plenty of ideas for your upcoming home project here.
Before the Screen Porch Addition
Before Design Builders was ever contacted about this project, the property had no outdoor living space.
"Grass. We just had grass here for twenty-five years," Rockville, Maryland, resident and homeowner Marcy explained. "I realized what a beautiful space it is back here, and I wanted some extra living space instead."
Creating the Screened-In Porch Design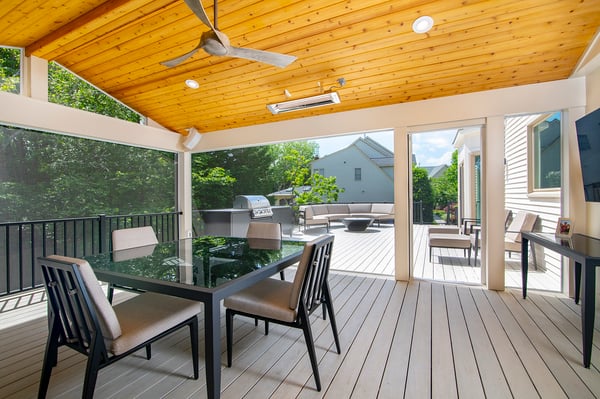 Coming up with all the design specifics came down to a number of factors:
Leaning on Design Builders. "I didn't really know what I wanted," Marcy said. "I had ideas in my head, but I looked at lots of [Design Builders] examples online to see the kinds of things you built. That gave me lots of great ideas."
Doing the Research. Collaborating with Design Builders and studying our portfolio was a great starting point, but when it came time for specifics, Marcy invested in research time. "I did a lot of my own homework to see what I liked."
Drawing on Personal Preference. For a design to be successful, it needs to look great, and it needs to serve a functional purpose. Marcy thought about how she ideally wanted to use the space, and that thought process informed a lot of the final design choices.
Before Windows Upgrade. Sceeeneze Screens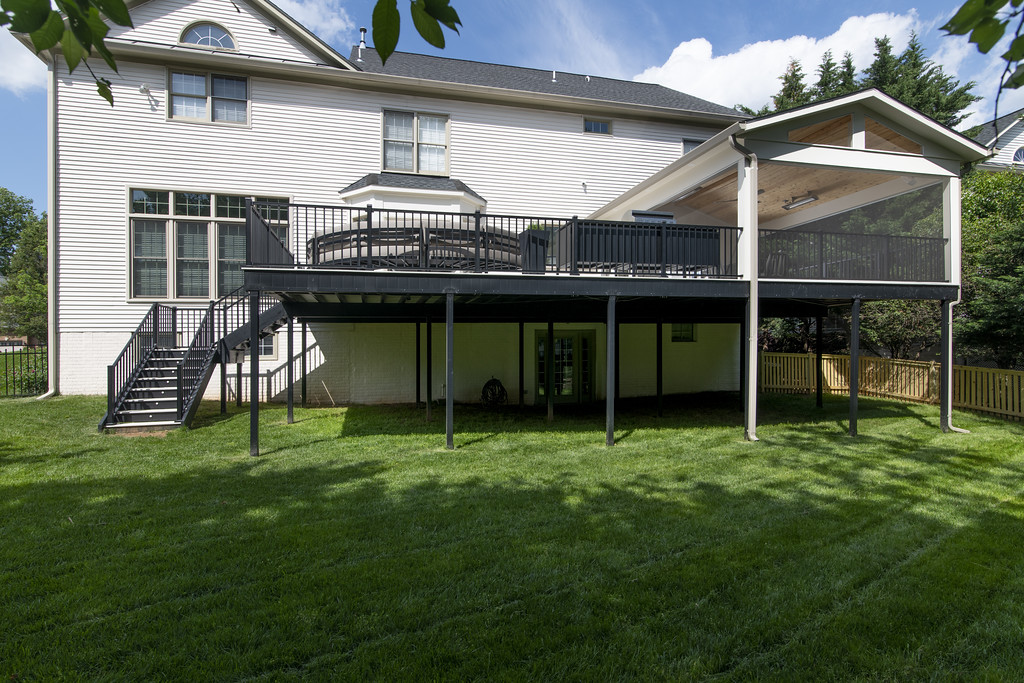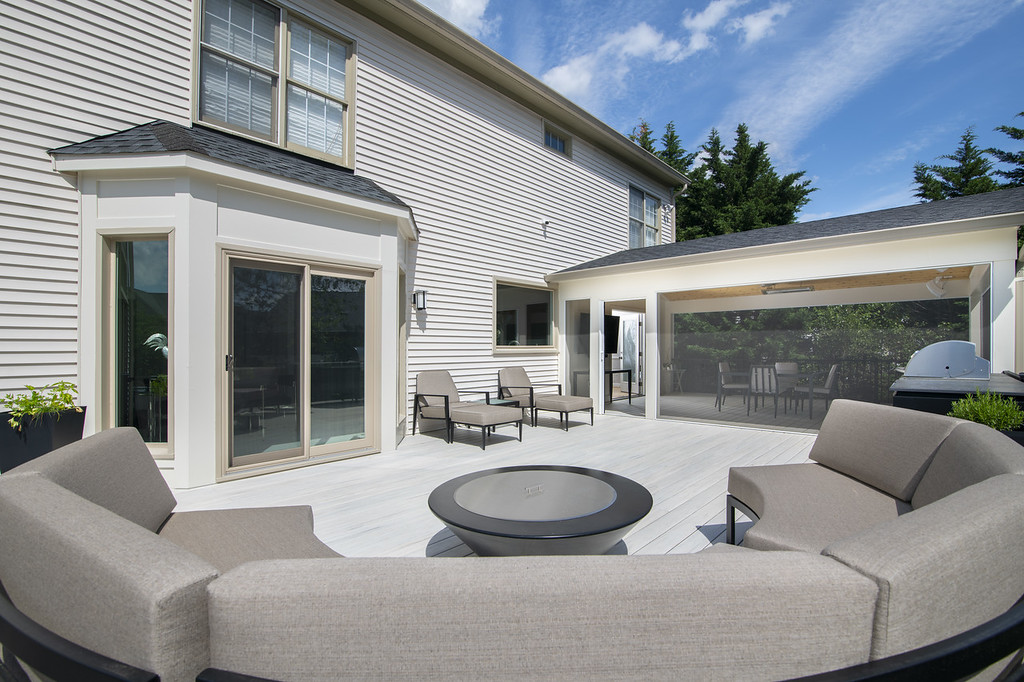 Key Screened Porch Project Features
There's a lot to admire about this Rockville, MD, screen porch and deck project. Here are just some of the design features that make this outdoor living space so unique.
Visual symmetry. In dimensions and aesthetics, the screen porch area mirrors the interior living room. An entertainer's dream, this creates a space where up to sixteen can comfortably gather.
Composite decking. Natural wood requires frequent, costly, and labor-intensive upkeep to look its best over the years. With composite, all those concerns are taken off the table.
Metal railings and matching fence. Metal railings offer a distinctly contemporary yet timeless look to any screen porch. The durability also makes them a functional and practical choice for the long term.
Steel deck framing. Marcy discovered her neighborhood had a problem with

carpenter bees

, which burrow destructive and structure-compromising tunnels into natural wood. After a neighbor lost a wood structure under a ground-level hot tub, Mary knew she couldn't go with wood framing.

Steel deck framing

was a way to safeguard against losing the entire project investment to the bees.
Large-span windows. After a false start with screens, the windows Marcy chose effectively kept the rain and weather out while still offering the open look and feel she desired.
Infratech outdoor heaters. Extending the usable time of the outdoor living space, infrared heaters help beat the chill on early autumn and chilly spring nights.
Blaze grill. Rounding out the entertainment experience, Marcy opted for a standalone Blaze grill. She knew she didn't need or want an entire outdoor kitchen but still wanted this summer get-together staple.
After the initial build, Marcy wanted to upgrade the screen porch to include Sunspace Windows.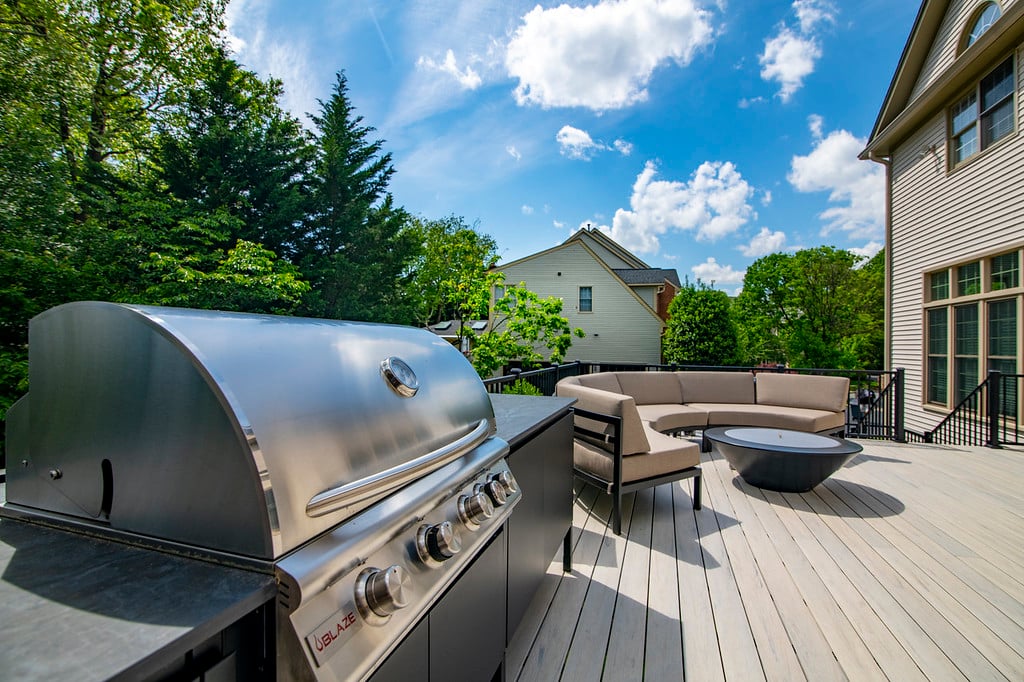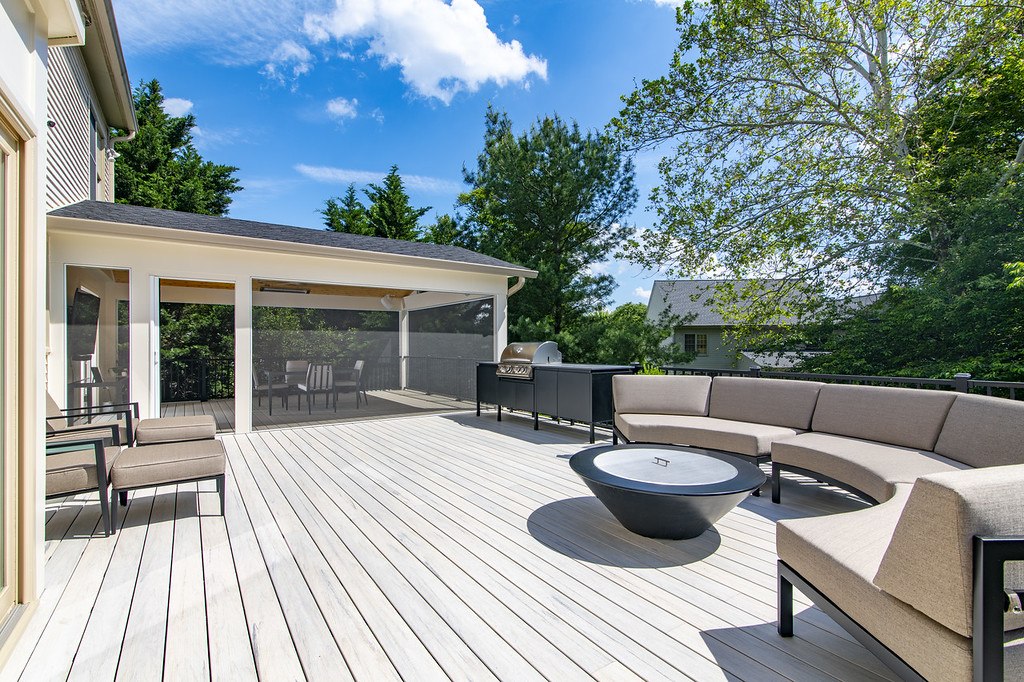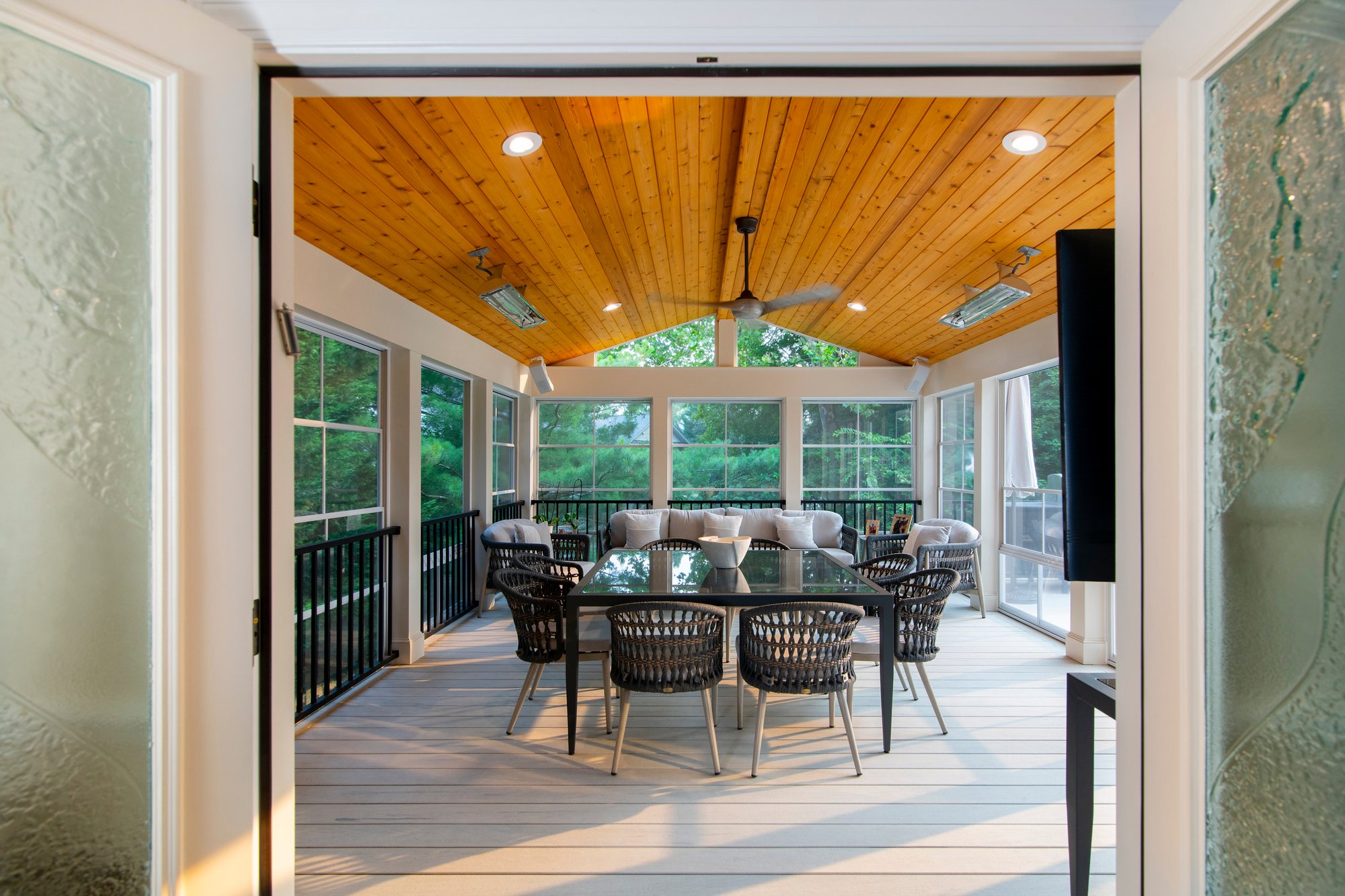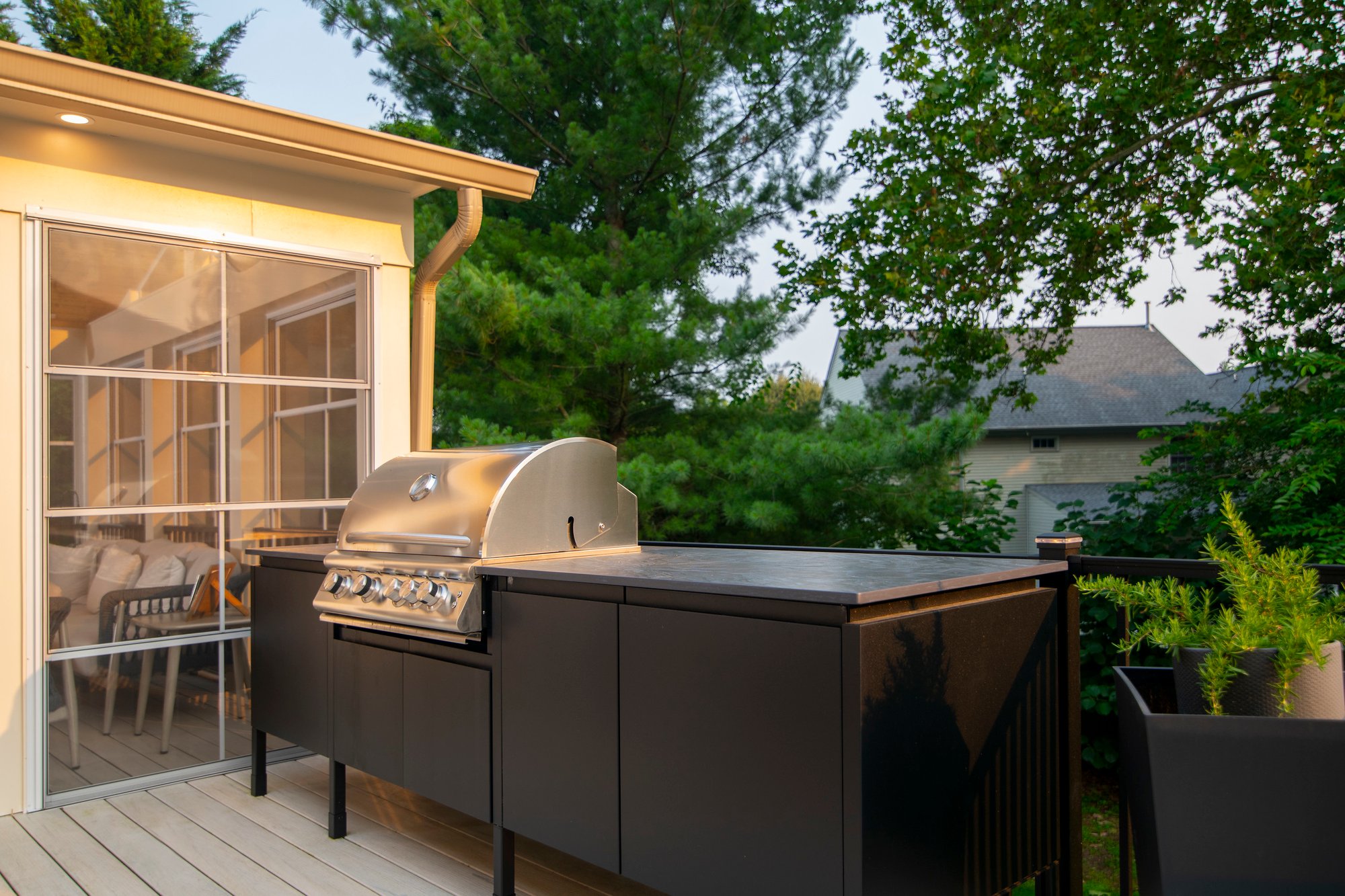 What Made Marcy Choose Design Builders Design and Build Firm?
With so many design and build firm options throughout Northern Virginia and Maryland, what drew Marcy to Design Builders?
Portfolio of past projects. The stunning

catalog of past outdoor living spaces

helped give Marcy ideas for what she wanted in her own space, and it gave her confidence in the craftsmanship, custom mindset, and collaborative abilities of Design Builders.
Comprehensive project checklist. This resource itemizes out everything the project could include. "Everything was accounted for in the checklist. Even things I never thought of," said Marcy. "I loved that. I could go through and pick out every single thing I wanted."
Weekly project updates. Rather than taking the reins entirely, Design Builders likes to keep homeowners as involved in the project as they desire. We keep clients constantly in the loop and have weekly check-ins. This ensures clients are always up to date on the project's progress, and homeowners can request adjustments or changes mid-project if something isn't right.
Custom choices. Everything Design Builders creates is entirely custom. There are no cookie-cutter decking projects or other outdoor living spaces in our portfolio. No matter the request, we do our best to accommodate. In Marcy's project, that included pulling out a window and adding a glass privacy door that was custom-ordered from California.
Ready to Discuss Your Virginia or Maryland Outdoor Living Space?
Ready to get your custom screen porch project on the calendar of a design and build firm? Just have questions about creating or renovating an outdoor living space in Northern Virginia or Maryland?
Contact us today!
We're Design Builders, a high-end custom design and build firm specializing in outdoor living spaces throughout the Maryland and Northern Virginia markets. We're always happy to answer your questions!
Design Builders is a designer and builder of Screened porches, decks and outdoor kitchens for Bethesda MD, Rockville MD, Gaithersburg MD, Silver Spring MD, Columbia MD, Bowie MD, Upper Marlboro MD, Laurel MD, Annapolis MD, Arlington VA, Falls Church VA, Vienna VA, Alexandria VA, Fairfax VA, Reston VA, McLean VA.