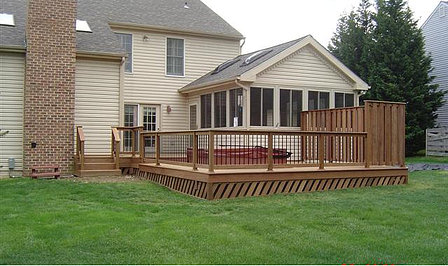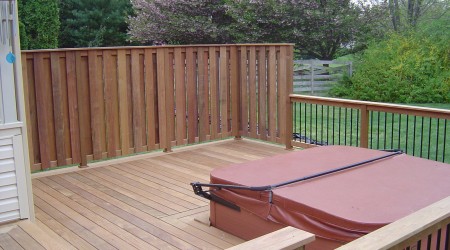 Summary
A homeowner in Ellicott City, Maryland commissioned this project to make the home's backyard more suitable for entertaining and private relaxation. It was constructed out of Brazilian hardwood IPE decking, which has a pleasant brown-red hue. The unobtrusive handrail system and privacy fence are made of the same materials.
The handrails are comprised of the 4 x 4 and 2 x 4 IPE pieces and Deckorators classic balusters. These are a safety feature but also make the deck meet county codes according to its height.
The hot tub was a must, and was integrated into the deck in such a way that the bottom portion is hidden from view while the top is at an ideal level for children and their grandparents to easily get in and out of. The hot tub's seat height is the same height as the exterior deck. The IPE privacy fence you see was put in place primarily to preserve the privacy of this area while it is in use.
Materials
Brazilian hardwood IPE decking
Deckorators classic balusters, black
Additional Resources
More information on hot tub-compatible decking can be found below:
Click here to return to our deck portfolio