Outside-of-the-Box Building
Too hip to be square? Good news – you don't have to go traditionally square with your deck or screened room. In fact, you can get downright musical with your outdoor living space if that's your taste. Just take a look at this piano deck we created: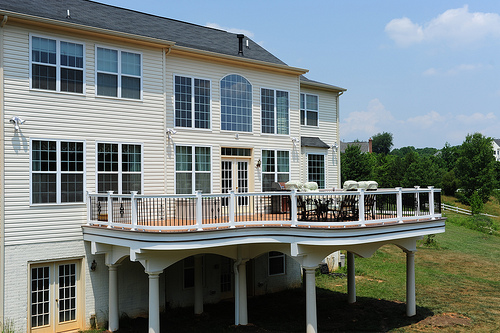 Smooth, curved decking can make you feel like you and your outdoor living space are even more in line (no pun intended) with nature. We use a variety of deck materials that feature curves, which means you can have the style and color of decking that you want without being forced into a straight-line deck shape. The only limit is your (and our) imagination.
Creativity comes from above as well, in the form of screen porch roofs. The shapes and sizes of the roof on your outdoor living space can vary considerably. Your roof choice can be influenced by the design of your house roof, whether or not you want skylights or fans, and, simply enough, your personal taste. Choose from an A-frame gable roof, a lean-to shed roof, a hip roof (with or without gable build-up), or a hexagon or octagon roof, illustrated in the photos below:
Finally, special trim and railing details truly put a lid on your outside-of-the-box thinking, making your one-of-a-kind deck that much more unique and true to your character and style of living. We welcome your creative ideas!