There are a lot of options when thinking about what to use for your deck project. Composite decking PVC decking, and Hardwood decking are always potential considerations. However, have you thought about using Pressure Treated Decking for your project? Pressure Treated Decking has a ton of advantages and can save you some serious $$$ on larger projects. Pressure Treated Decking gives you the freedom to build just about anything that you can imagine.....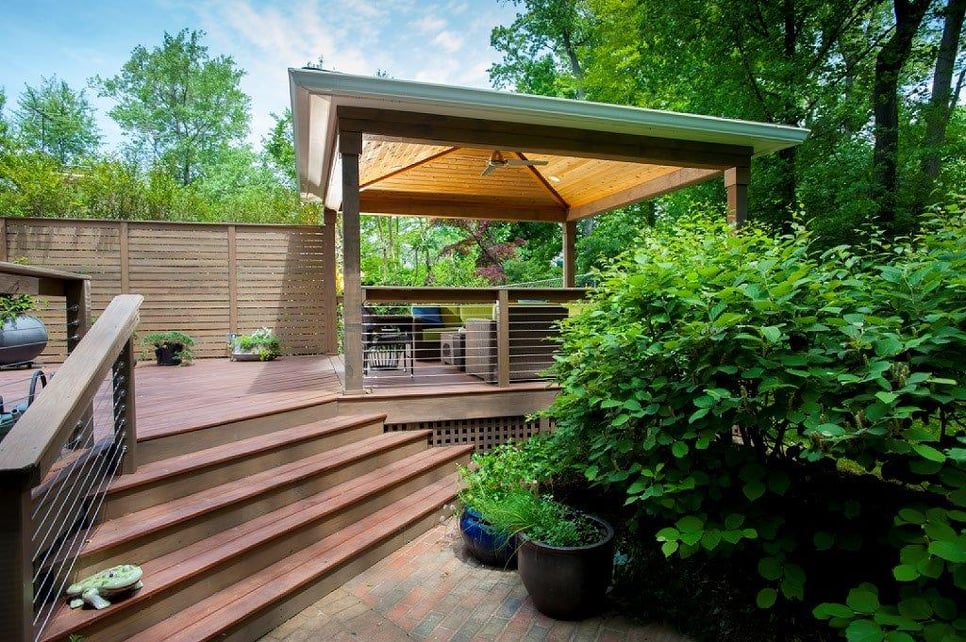 When a local homeowner approached Design Builders, Inc. to create a shaded space for her backyard, she hoped to begin by restoring her existing cedar deck. However, when it was deemed beyond repair, a full-scale deck replacement was in order. This is an in-depth look at how this contemporary Maryland deck design came to be.
The homeowner, who has a flare for simplicity and contemporary design, presented a variety of requirements for the proposed solution to meet. For example, natural light entering the home was not to be obstructed for any reason. The desired shaded area was thus offered in the form of a hip pavilion to be positioned at the far end of the new deck. This resulted in an effective covered space that does not cast shadows on the kitchen or sunroom adjacent to the deck.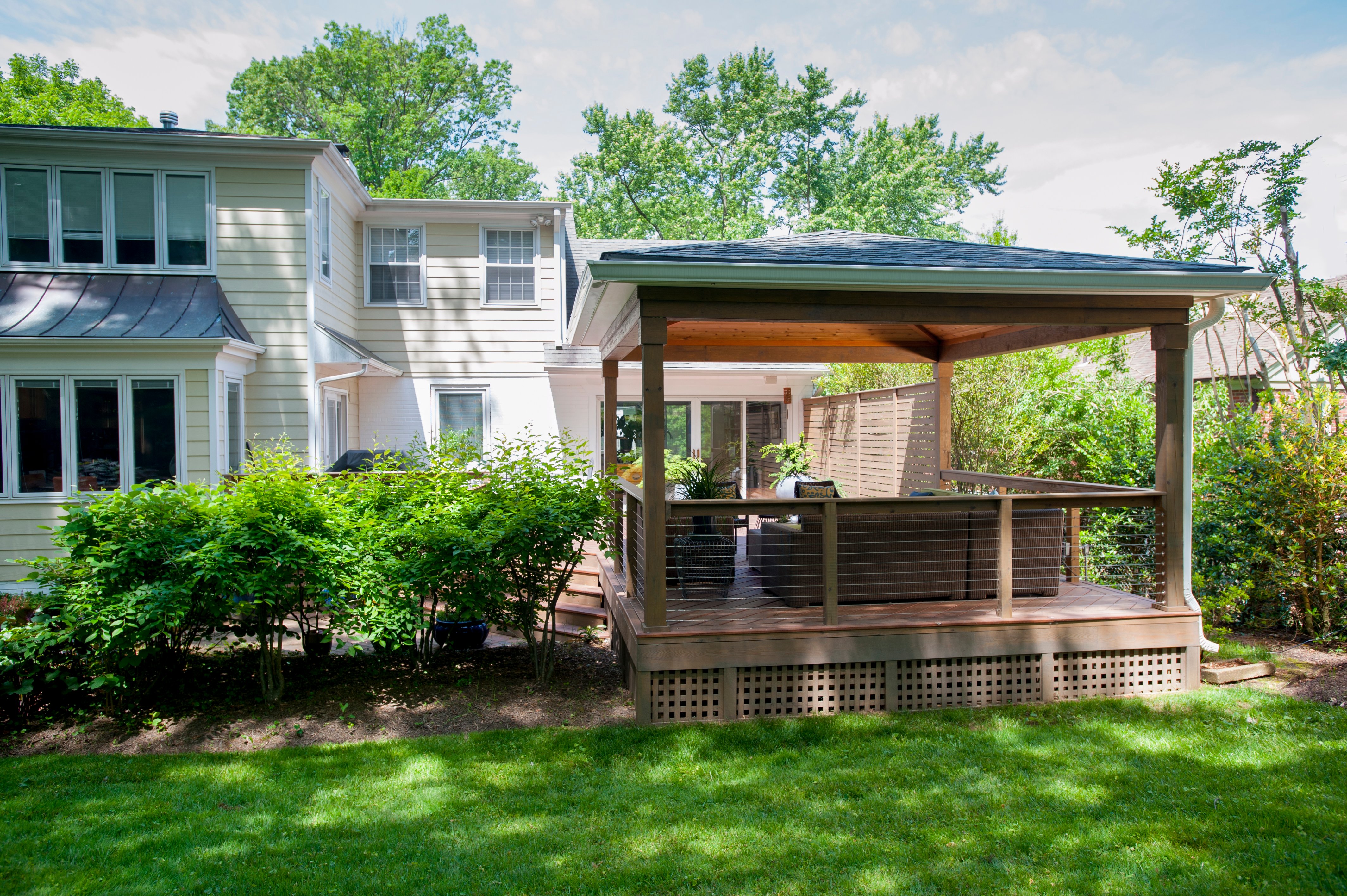 There also had to be a slick, hard-lined feature that would block the resident's view of her neighbors' yard. This was the inspiration behind the 6' privacy fence installed in the space between the home's sunroom and the new, open concept pavilion. It was built using horizontal pressure-treated wood panels to complement the new deck's modern rail style. A series of bushes and other plantings positioned on the opposite side of the wall accentuate the feature.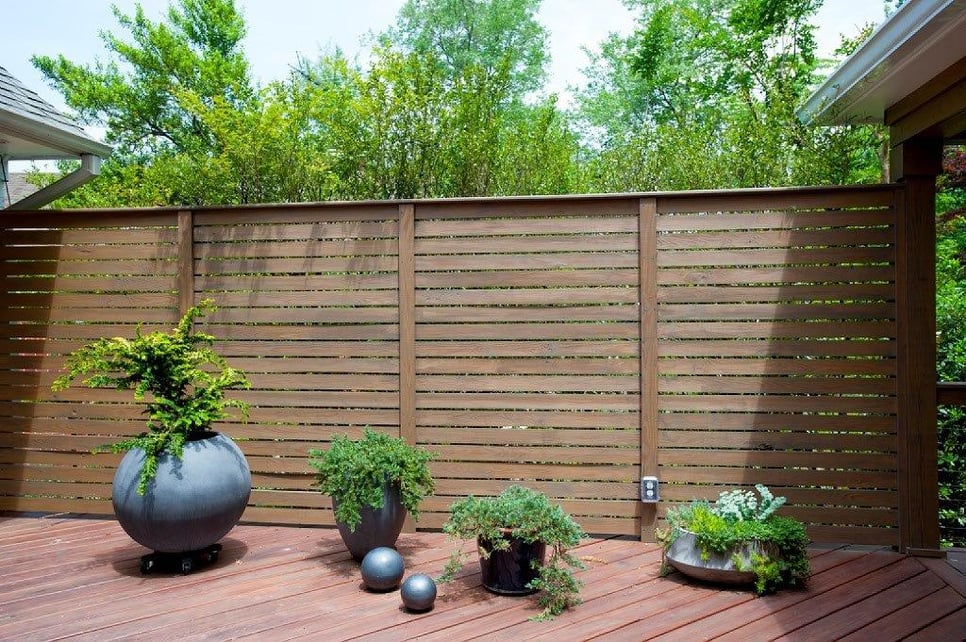 Budgetary concerns could not be neglected, either. While crucial to any home addition, they were particularly scrutinized throughout the building process here because of both the size of the deck and the homeowner's dedication to using natural materials. Cedar was rejected as a decking option because of the first deck's failure to withstand D.C.'s unrelenting weather, while hardwoods were out of the picture because of their price tags. The homeowner ultimately settled on pressure-treated wood because of its durability, price point, and customization in terms of color and overall appearance.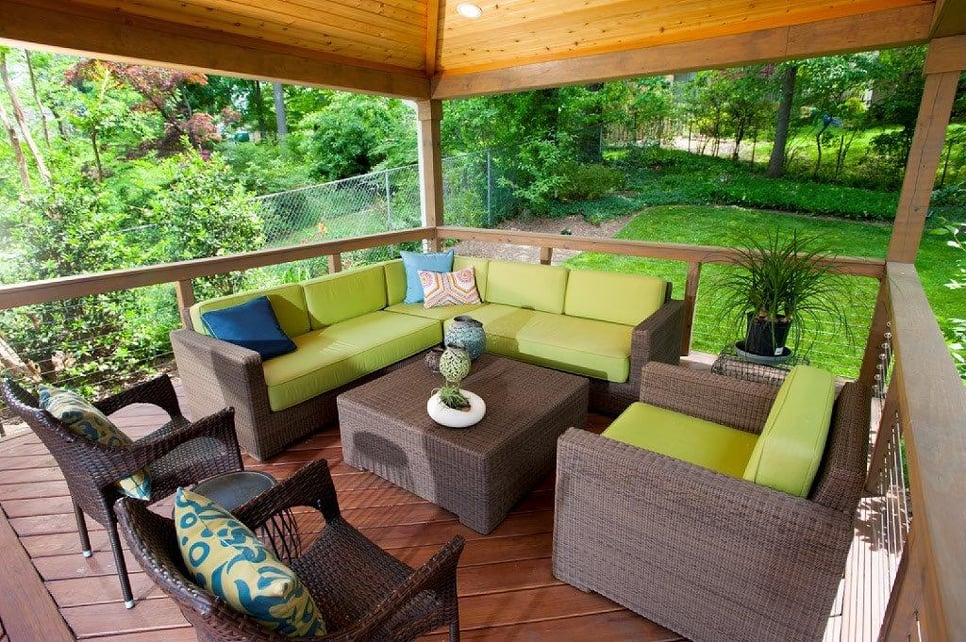 These requirements were visibly influential on the final product, of which was loosely based on an extension of the original deck's footprint. Among its other notable features are its 500 square feet of usable deck space, a designer ceiling fan mounted to a cedar tongue and groove ceiling, and a unique stainless steel cable railing system that, from a distance, is virtually invisible. The absence of doors, screens, and bulky handrails provide unobstructed views of the home's well-manicured garden and plants from both indoors and out.
Learn more about this original Maryland deck design in our portfolio, or schedule a free quote to take the first steps in building a low-maintenance deck in Virginia or Washington, D.C. of your own.