Opening the Lid on Capstock Decking
When it comes to decking materials, there is no longer just plain "lumber." Your options for selecting a material that will blend with the climate you live in and satisfy the desired look for your deck are many. So let's take a look at one of them: capstock decking.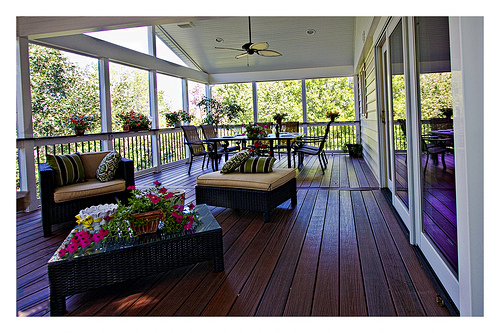 A new development in composite decking, capstock decking is made of a composite deck core and covered with a thin protective wrap – hence the name capstock. As with all products, there are advantages and disadvantages to choosing this type of material.
Trex Transcends and Fiberon Horizons are the producers of capstock decking. Trex in particular produces a green product while Fiberon's is slightly less expensive than its competitor's offering. Both get the job done, providing that more wood-like appearance for which capstock is known. The color options and combinations are many, allowing you to satisfy your aesthetic, match your home, and create curb appeal. There are also many railing options so that you can further personalize your outdoor living space.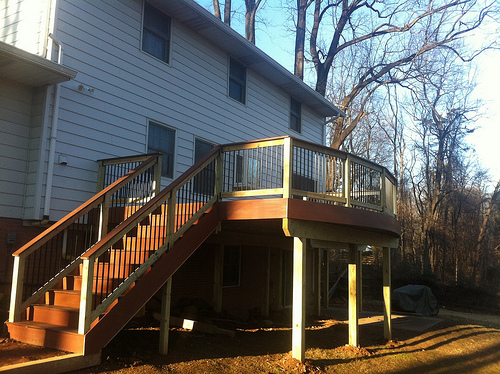 Now, what are the drawbacks to using capstock decking? It doesn't perform well in high-moisture areas. Particularly rainy environments with decks built closer to the ground have encountered problems when using capstock decking. Water can invade the open composite ends of the deck boards and cause swelling – and that you definitely do not want in a carefully constructed deck. While some capstock decking is available as fully encapsulated boards, providing more protection from the elements, the grooves that give the capstock its wood-like appearance ultimately compromise the surface.
While you have a variety of color combinations from which to choose when opting for capstock decking, there are limitations when it comes to design. If you're envisioning a curved deck and bending deck boards, it's time to expand your search for a decking material – capstock decking cannot be used in this manner.