Design Builders, Inc. Company Updates
Please redirect to this page for the latest company updates, including James' interview with Infratech Comfort Heaters.
* * *
Look in your back yard. See an empty space? James Moylan sees enormous potential. President of Design Builders, Moylan has transformed hundreds of empty spaces just like yours into luxurious outdoor living spaces with custom designed decks, screened rooms, patios, porches and sunrooms.
. . .
Design Builders recently transformed the empty space behind Frank and Barbara Emanuele's Cape Cod-style home. "After 22 years of living there, it was long overdue," said Frank. "We decided to bring the outdoors in. With the kids gone, we needed less space for them and more for entertaining."
After being overwhelmed by architects, a landscape architect, and other builders, the Emanueles finally found their way to Design Builders, "and everything just clicked."
The Emanuele home backs up to the 18th tee of a golf course. The project transformed empty lawn into a beautiful and functional outdoor living space that's become the envy of the Emanuele's close-knit neighborhood. On one side, under a post and beam roof and ceiling fans, is an Azek plank floor. A hot tub sits half under the pavilion and half outside, where the couple enjoys views of the moon and golf course. A teak dining table and chairs are on the adjoining flagstone patio, and a lower flagstone patio surrounds the hot tub three feet below the porch. The entire living space is lit with subtle low-voltage lighting and landscaped with planting beds and evergreens. "It's a very nice addition to the community, not just to our home," said Frank Emanuele.
The Emanueles appreciated the service and details that Design Builders brought to their project. "We make every job personal," said Moylan. "From the preliminary design we create on a laptop at the very first meeting through to the final walk-through after construction, we are very responsive to the wants and needs of our clients." Clients of Design Builders can track the daily progress of their project through photos and updates on Twitter. The company's Facebook page features current and past projects, and Design Builders has produced a library of YouTube videos to educate homeowners about the process of building an outdoor living space.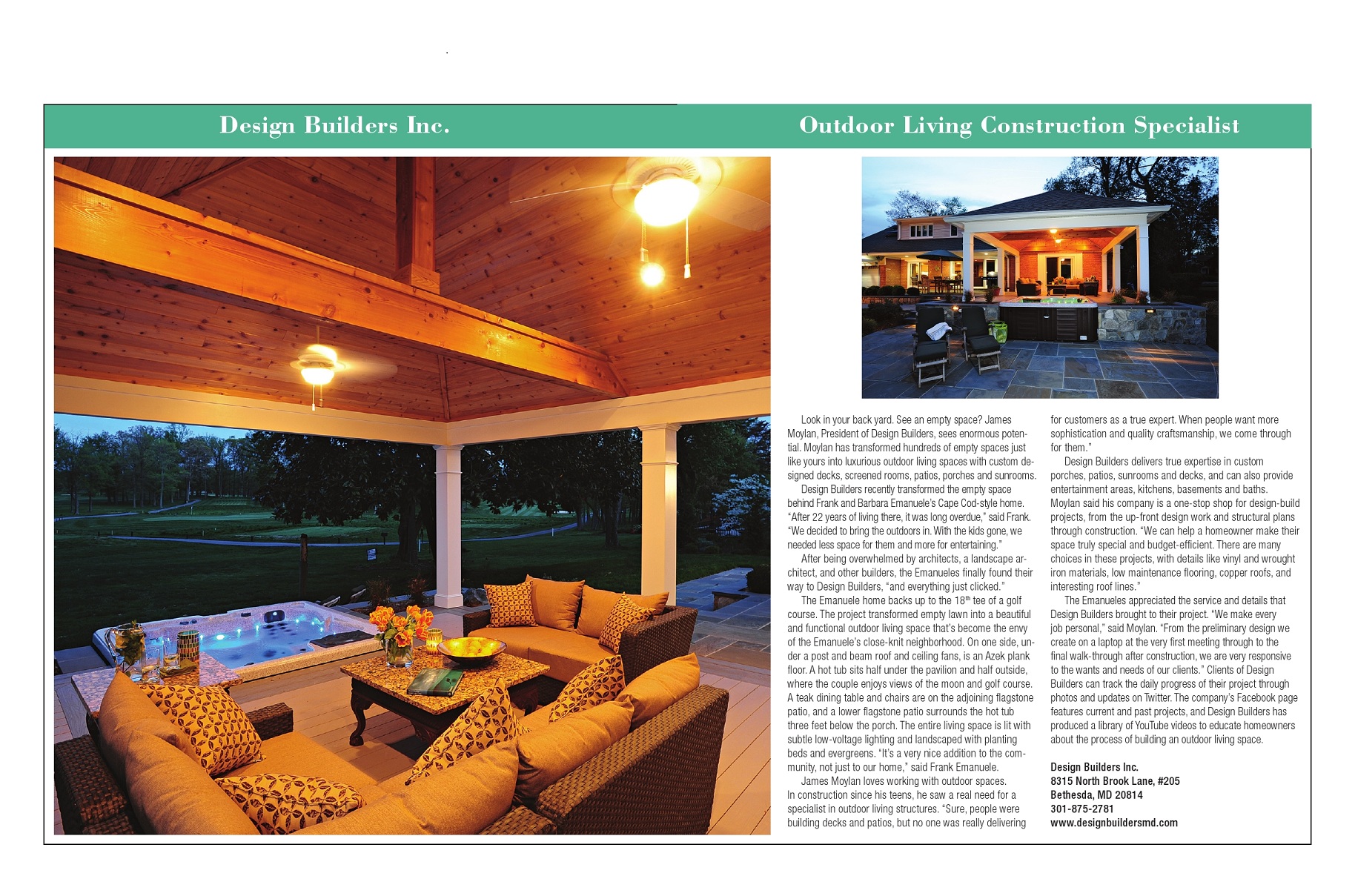 James Moylan loves working with outdoor spaces. In construction since his teens, he saw a real need for a specialist in outdoor living structures. "Sure, people were building decks and patios, but no one was really delivering for customers as a true expert. When people want more sophistication and quality craftsmanship, we come through for them."
Design Builders delivers true expertise in custom porches, patios, sunrooms and decks, and can also provide entertainment areas, kitchens, basements and baths. Moylan said his company is a one-stop shop for design-build projects, from the up-front design work and structural plans through construction. "We can help a homeowner make their space truly special and budget-efficient. There are many choices in these projects, with details like vinyl and wrought iron materials, low maintenance flooring, copper roofs, and interesting roof lines."