The Design Builders case study: a basic screened porch design for Maryland and Northern Virginia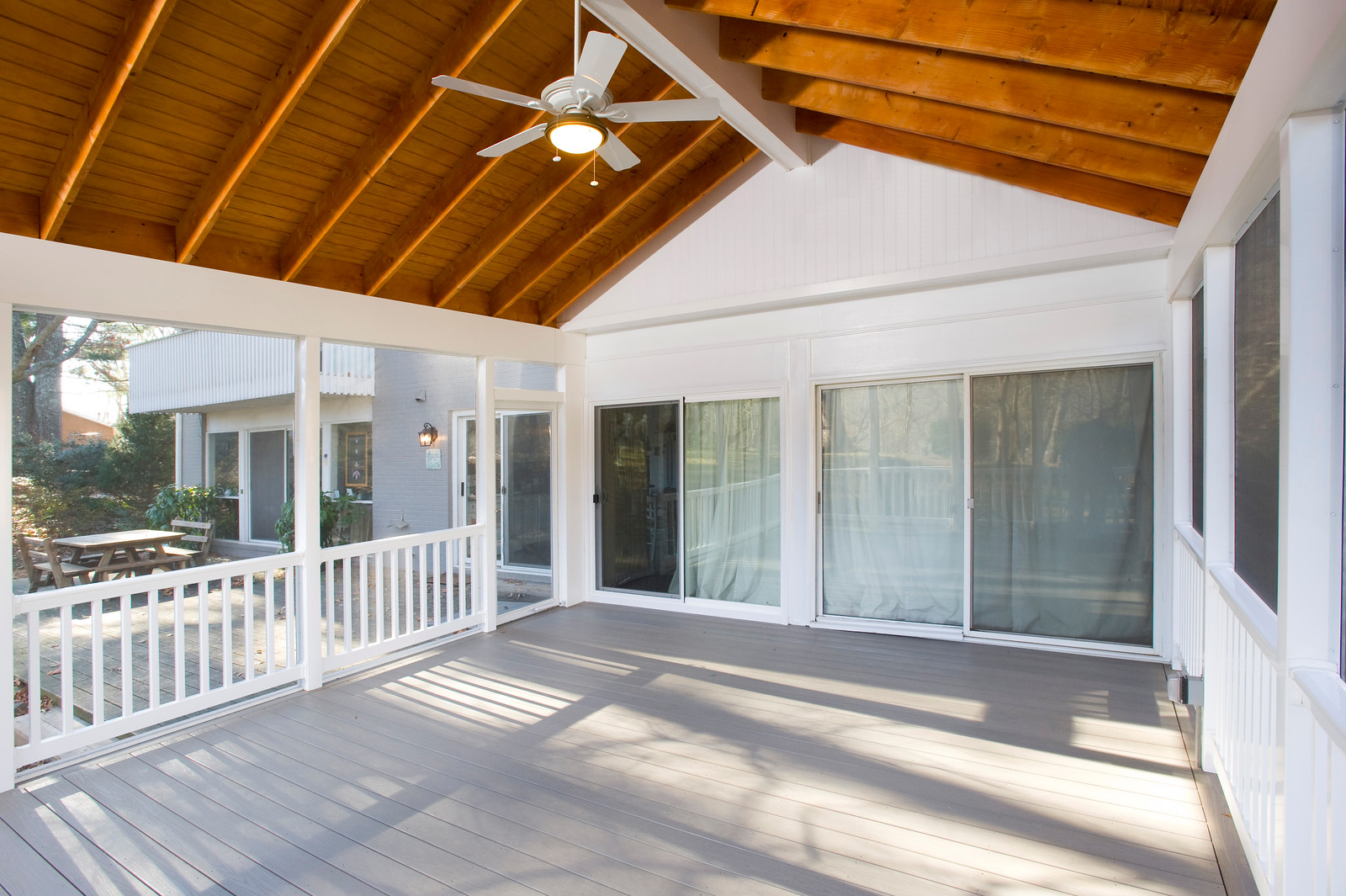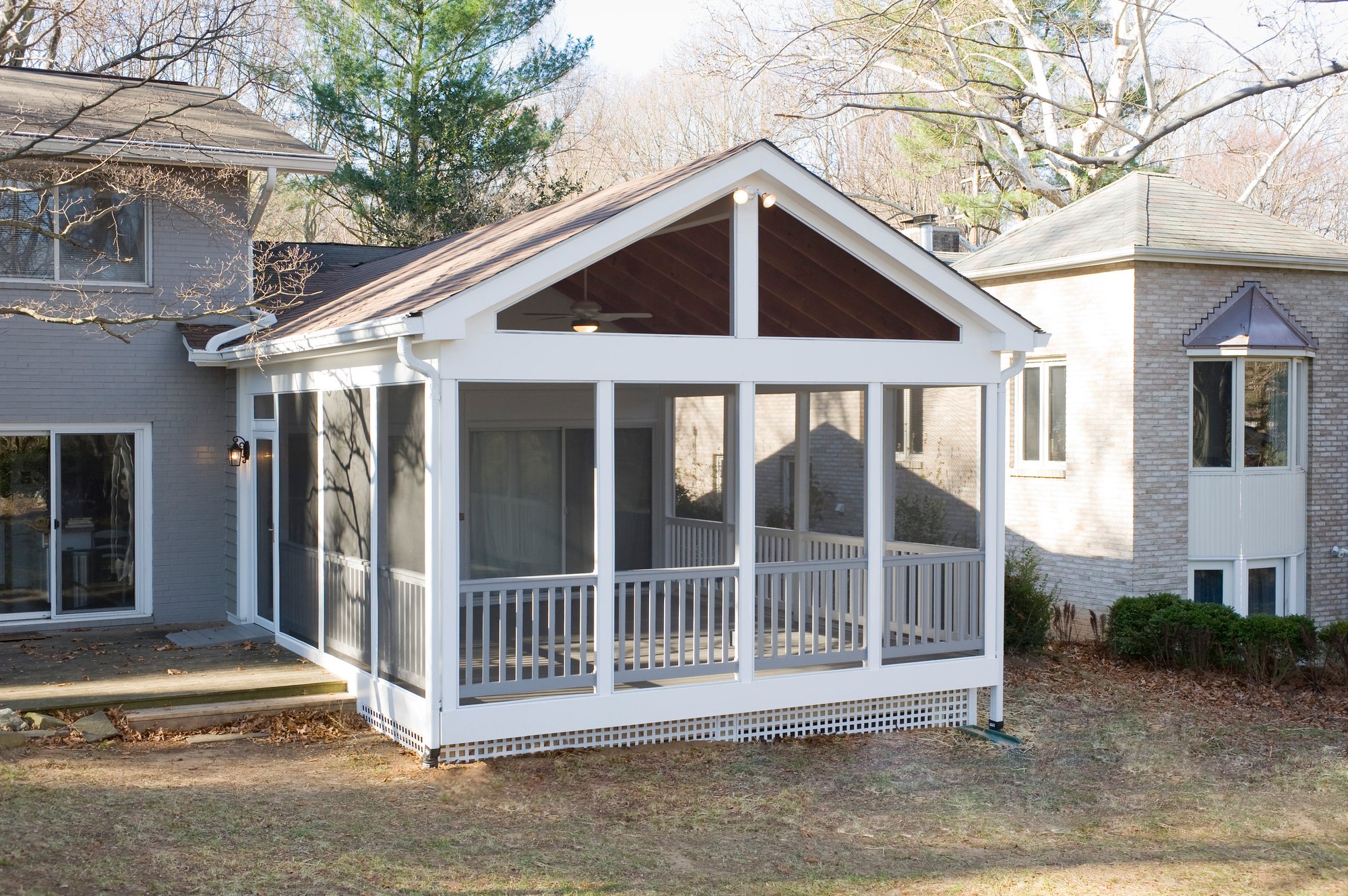 Key Project Feature
This project might be our baseline approach…but it's far from "basic."
Here are some touches to expect from even our most cost-effective outdoor living spaces:
Clean, beautiful aesthetic. Even without a hundred custom details, everything in this screen porch is thoughtfully chosen and designed.
Longevity. Materials, layout, and design were all carefully considered for ROI and long-term value. (Hello, stunning

TimberTech AZEK

flooring!)
Fit with the existing home. Nothing's worse than investing in a new build…only to have it look like a design afterthought. Design Builders specializes in blending the new outdoor living space (styles, finishes, design choices) with the existing home.
Slate gray flooring. This color choice accomplished a lot. It was a standard AZEK color, so that kept cost down. The color doesn't retain too much heat. It doesn't show a lot of dirt. And it's an absolutely stunning, neutral, timeless design choice.
Economical handrails. Using vinyl handrails with an aluminum insert ensures a durable product that'll last forever at a price point that isn't prohibitive.
Minimal frills ceiling. Using a simple stain and very limited electric (just a single ceiling fan with a light) kept this project budget down. The possibility to add more extensive electric work can also be designed into these simpler projects.

SCREENEZE exterior. Unimpeded views. 20-foot spans without a post. Low maintenance. Screens as tight as the day you install them. There are so many reasons we love

SCREENEZE

for our projects!
Interested in adding a screen porch to your home?
Contact us today to learn how much a baseline outdoor living project would cost.
"Working with Design Builders always means you get a custom, high-end product. This project is the perfect example of balancing style, design that matches your life, and economical choices."
—James Moylan, Owner, Design Builders
Design Builders is a designer and builder of Screened porches, decks and outdoor kitchens for Bethesda MD, Rockville MD, Gaithersburg MD, Silver Spring MD, Columbia MD, Bowie MD, Upper Marlboro MD, Laurel MD, Annapolis MD, Arlington VA, Falls Church VA, Vienna VA, Alexandria VA, Fairfax VA, Reston VA.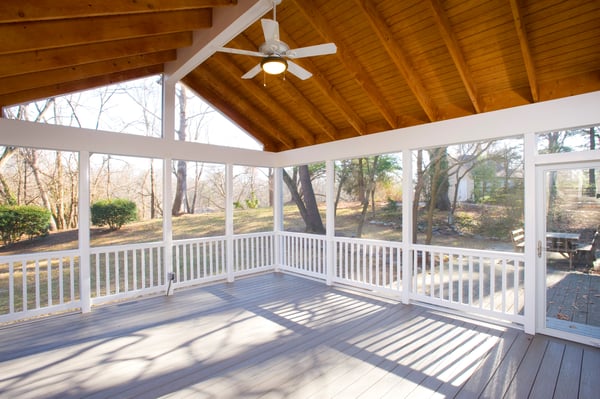 See What Else We Can Do with Screen Porches!
From basic to lavish, the Design Builders team can create the screen porch that matches your life, design choices, and budget. Here are just some examples to get you inspired!
Get a ballpark estimate for what your dream space would cost! Request your free project quote today.
How Can We Help?
Have any questions about what a basic screen porch build will cost (or entail)? Contact us today! We're always happy to help.