If you're thinking about putting in a new deck, it's understandable if you're overwhelmed. With so many material options, price points, colors, styles, and other factors to consider, it can quickly become confusing. One of the main places homeowners get stuck is on this issue of vinyl (or PVC) versus composite decking boards.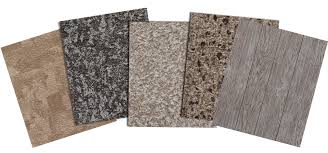 While PVC is one of the common materials used in the decking industry, there are numerous ways vinyl can be compromised or end up costing you more than that initial price point. Given that, consider these five factors before committing to a vinyl deck:
5 Ways Composite Outperforms Vinyl
Resistance to the Elements
One of the best ways for a decking material to hold its value over the years is by being resistant to wear and tear. Exposure can range from weather-related elements (sun, rain, wind, and snow) to human elements (foot traffic, rubber mats, exposure to sunscreen, and more). Vinyl is simply more susceptible to incurring damage from all these things, meaning you'll have to deal with more scratches, dents, fading, and warping as the years go on.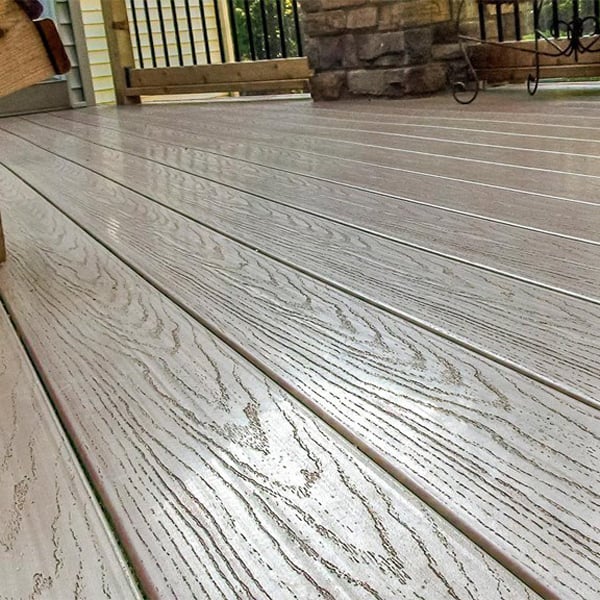 Color and Pattern Selection
Composite decking, such as Trex, is known for not only its durability against the elements but its array of vibrant, rich color options. The synthetic grain on the composite boards also closely mimics the natural variation seen in genuine wood. The finish on these boards tends to be matte, while PVC has a shinier, slicker appearance that simply looks like plastic. Vinyl has had aesthetic improvements over the years, but it still doesn't offer the resistance to fading, the wide breadth of color selection, and the mimicry of natural wood that composite provides.
Colorfastness
As mentioned, composite boards can be exposed to decades of the elements and never lose their initial color. PVC, however, has a tendency not only to fade but to oxidize. When the latter happens, you're left with a white, chalky look. If you've chosen a color in the darker spectrum (deep brown or russet, for example), this chalky appearance is particularly noticeable. Because deck boards are typically chosen to match or to complement an existing design aesthetic, the altering of that color over time can negatively affect the look of the whole house.
Affordability—Especially in the Long Run
A lot of homeowners assume vinyl is cheaper than composite, and that can be true, but there are some important caveats to that assumption.
One, the cost of PVC actually fluctuates with the price of oil. Because PVC doesn't contain any post-consumer recycled material, production cost is higher. With these fluctuations and production methods, the sticker price can actually be lower on composite in certain situations.
Two—and this is, perhaps, the far more significant consideration—composite requires very little yearly maintenance. You'll never have to stain, paint, or sand a composite deck in the way you would a natural wood deck, and you won't have to expend any money fixing or replacing splintered, warped, or otherwise damaged boards.
Eco-Friendly Option
Composite decking boards can be made from upwards of 95 percent recycled materials. Industry-leading composite decking brands, such as Trex, comprise some of the nation's largest plastic recyclers. In Trex boards specifically, all organic material is reclaimed, recycled wood, and the polyethylene comes from recycled grocery bags and shrink wrap. This directly keeps those materials out of the landfill. PVC, on the other hand, does not take advantage of recycled material; instead it uses virgin plastic, which is plastic resin that was created without any reused material. In this way, composite decking boards are a greener, more eco-friendly, more sustainable purchase.
In the decking industry, there's little doubt you have an overwhelming number of options—between materials, styles, and brands. The right choice for you comes down to what offers the perfect mix of aesthetics, functionality, and price
If you're currently on the fence about a PVC deck, it could certainly be the right choice for you, but make sure you're aware of all the potential downsides before selecting that option. Make sure to also consider the life of the product, especially in terms of durability and maintenance costs.
No matter what stage you're at in the deck-building process, if you have any questions at all, feel free to reach out. We'd love to chat!