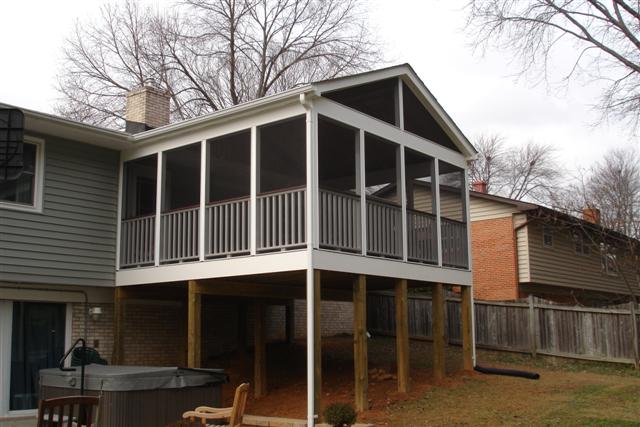 When you walk into the grocery store and find a bag of chips marked $2.99, you know you're going to be forking over more dough than that at the register. The same holds true for unique screened porches, though on a scale beyond the standard sales tax.
So how much does it cost to build a custom screen porch in Maryland or Virginia? The answer is, there is no definitive figure. While you can receive a quick price quote as part of an online consultation, actual estimates will otherwise vary on an exclusively case-by-case basis dependent on the following factors:
Plans and Permits - This includes the full set of building plans for the project, permit, and stickers
Site Preparation/Demolition/Debris Removal and Disposal/Clean-up - Sites need to be prepared prior to a build and cleaned up when the job is done. In most cases, this includes a standard dumpster rental
Screen Porch Flooring - The material used as flooring can range from pressure treated wood or PVC deck board to a composite, cap-stock choice. Each option has its benefits but also its own price segments.
Porch Railings - These may be required by local codes if a porch is 30" or more above the construction grade. Your rail options also vary from pressure treated wood, vinyl rails, composite rails, or even a hybrid
Roof Structure - Different architectural features have unique associated costs. The most
common types of roofs are gable roofs, hip roofs, and shed roofs
Ceiling Finish - T111 pine finish, painted pine, cedar, or a PVC material are just some options available
Electrical - This category includes an electrical permit, circuits, switches, and the lighting options of your choice
Lighting and Extras - These may include recessed lighting, wall lights, ceiling fans, flood lights, infrared heaters, speakers, and outdoor television sets
Stairs - These costs encompass the landing(s), steps, risers, stair rails, graspable handrail, and riser lighting.
Okay, there is no definitive answer, but give me one anyway
---
When it's all said and done, the price for a screened porch is typically around $175/SF. Expect a 16' x 12' room to cost $34,000.
While this will be a sizable investment for your home, the good news is that it yields an excellent return on investment, or ROI, averaging over a 75% pay back.
Here are 2 interesting articles that go into more detail on ROI for home improvement projects:
http://www.remodeling.hw.net/cost-vs-value/2013/south-atlantic/washington-dc/
http://www.frontdoor.com/real-estate/top-15-home-updates-that-pay-off?offset=7