Trex Decking Accessories and Other Products by Trex Company
While most people think of decking when they hear the name "Trex," there's actually much more to that company's story than just standard and high-end composite decking boards. The following is a brief overview of some arguably lesser known product lines that are still from the trusted Trex name.

Trex Products: More Than Low-Maintenance Deck Boards
Deck Railing
Deck railings almost invariably pair with deck projects, and Trex offers three level of railing product lines: Transcend, Reveal, and Select. Just like their decking boards are classified as "good," "better," and "best," the same policy applies to their railing. Transcend is best, Reveal is better, and Select is good. To that end, Transcend is a composite product, Reveal is aluminum, and Select is the most basic white composite. Again, as with decking boards, one major difference between the product lines lies largely in color selection options.
What's best for your decking project, however, comes down to personal preference. For example, if you enjoy the minimalist look of aluminum, you will naturally gravitate away from Transcend, which is a much sturdier, bulkier product.
Outdoor Lighting
Trex offers two primary categories of lighting: decking and landscape. Deck lighting helps accent and provide ambiance for any deck, but it can also serve a practical purpose, such as making steps easier to navigate at night. These lights are able to sustain years of outdoor weather. (In fact, a limited seven-year warranty backs their deck lighting products.)
Landscape lights can highlight key outdoor property features, help illuminate pathways at night, and increase the curbside appeal of your home. These lights are also resistant to adverse weather and are covered by a limited five-year warranty.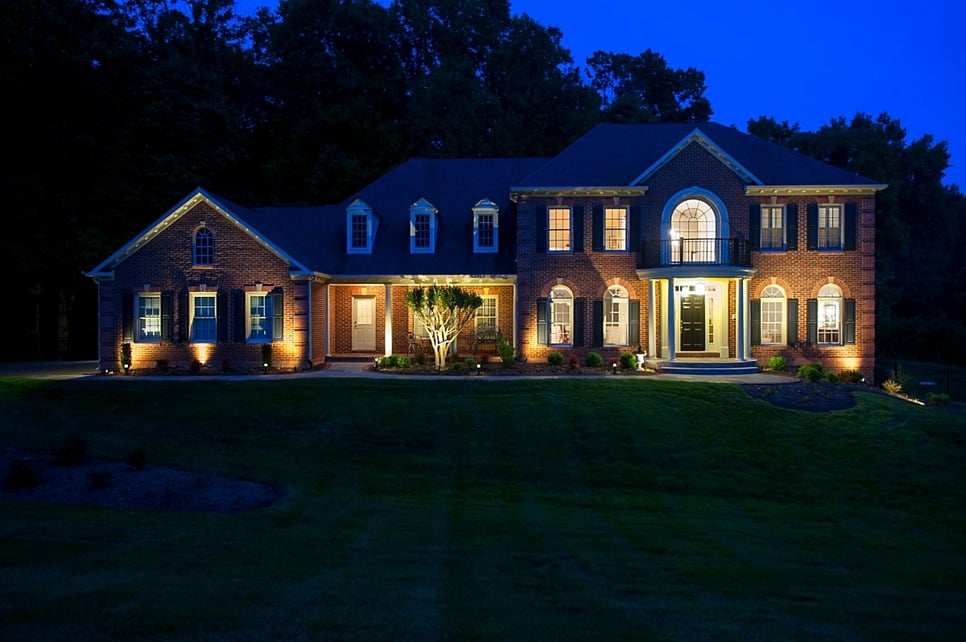 Home in Clifton, Virginia with Trex outdoor lighting elements installed. Note the cool, classy aesthetic they create.
Trex RainEscape Deck Drainage System
If you want to make the space under your elevated deck a usable area, it will require a drainage system in order to divert any water away from the patio or living space. The RainEscape system is a network of troughs and gutters that goes under the deck and ensures all water safely funnels away and does not drip on that living area below. This system is installable on new or existing decks.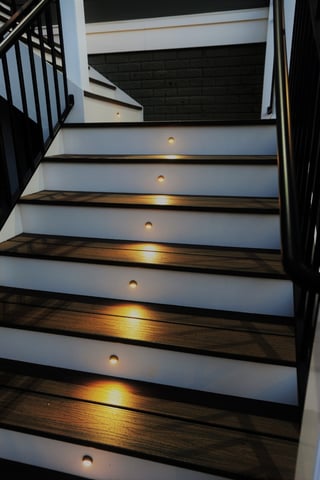 Trex Outdoor Furniture

From tables and chairs to full dining sets, Trex offers a wide range of outdoor furniture. Their pieces are designed to be low maintenance and withstand harsh outdoor conditions, including sun, saltwater, snow, and moisture. As with many Trex products, however, it's not just the quality and durability that are selling points; the products are also designed with a high-end sensibility, so you get refined aesthetics along with tough performance.
Trex Pergola
A pergola offers a laundry list of benefits to any outdoor space:
Architectural flair that creates a visually interesting outdoor space
Partial shade to help stay cool during warmer weather
Easy to install with the help of your local Trex deck contractor in Maryland, Virginia, or Washington, D.C.
When you choose Trex, you also get extremely high-quality materials. Their pergolas are constructed from aluminum and cellular vinyl, providing a strong base to customize. The exact size and shape can be done in either a custom or standard size.

Trex Outdoor Storage
To maximize the utility of your outdoor space, you'll want to find creative, beautiful, elegant way to store extra items. Trex has a variety of cabinets, boxes, and benches for that very purpose. Storage is always useful for keeping your outdoor space looking clean and tidy, but going with Trex for decking, railing, storage, and everything else means your color patterns and design aesthetic are also consistent and streamlined.
Other Available Products
Trex also offers a variety of colors and designs for fences, which can make a nice aesthetic complement if you already have a Trex deck.
There's also Trex framing on which to place a new Trex deck. This stainless steel substructure makes a solid and lasting foundation for any decking investment.
For more information about the product lines Trex offers beyond decking, please shoot us a message for a free Trex deck estimate!